KICK-OFF MEETING (online), November 11th, 2020
Due to the global Covid-19 pandemic, project Digital Tutors: Facing the new generation and challenges partners meeting was held online. However, this did not prevent partners from different countries to get to know each other, share project experiences, introduce their organizations and convey to each other a great mood and sincere smiles. During the meeting, the project content, activities, intellectual products and results were presented and discussed. The rules of project management were also introduced, the main deadlines for the performance of works were provided, activities were divided, responsibilities and other important issues of project administration were provided. The meeting went well, the project participants did not lack good mood and willingness to get involved in the planned activities.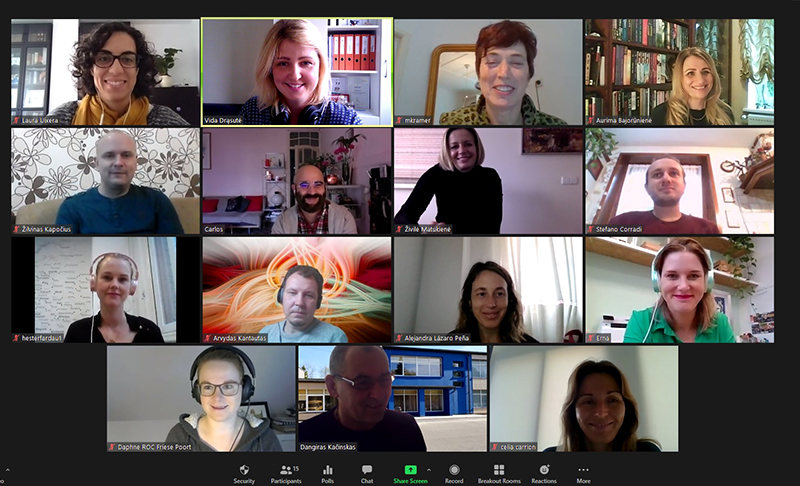 THE SECOND MEETING (online), January 12th, 2021
New year, new works, new challenges! The second international project partners' online meeting took place on 12th of January, 2021. Despite the ongoing global lockdown, partners from different countries accompanied by new ideas and a great mood, met again to present, discuss, adapt and plan ongoing and further project activities. During the meeting, the Digital Tutor definitions developed by each country were presented, which were processed, analyzed and submitted to create a common and unique Digital Tutor definition.  Also the project website was introduced, its advantages, disadvantages and suggestions were discussed. The project partners were happy to share their ideas and advices. Moreover the plan of further activities and their implementation were presented and discussed. Strange as it may seem, but participants were quite accustomed to discuss, to share advices, and not to lose a great mood  communicating remotely.
THE INTERIM MEETING (online), March 26th, 2021
Activities and virtual meetings of the Erasmus + project " Digital Tutors: Facing the new generation and challenges" continues. This is the third virtual meeting of partners from three different countries – Spain, the Netherlands and Lithuania – to discuss project activities, present research data and make a brief analysis of it. The meeting took place on March 26 of this year, during which each country presented the results of its national survey, shared the respondents' observations and suggestions on the definition of a Digital Tutor. The plan of further activities and their implementation were discussed, as well as the project coordinator Aurima Bajorūnienė reminded about the upcoming interim report and the necessary reporting documents. Project participants got used to communicate remotely, discussing, sharing advice and not losing a good mood.